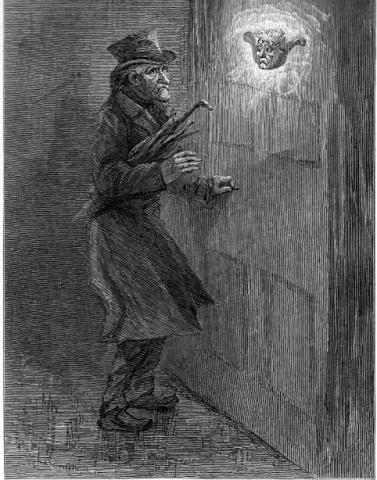 The call came out today. Immortal Work Press is collecting ghost stories. An anthology containing scary tales is not new--there's a whole holiday dedicated to fright. Then we have Thanksgiving (in USA, anyway...), and after that--and many times before--our attention turns to Christmas. You'd think that Christmas would be the antithesis of Halloween--a central point in Tim Burton's The Nightmare Before Christmas--but for many, the season of giving includes giving chills, shrieks, and grizzly tales.
The press release is mere hours old, but here it is:
Call for submissions!
"Bring back the tradition of telling ghost stories at Christmas!"
"You know what this Christmas party needs? Ghost stories."
"Why does Nightmare Before Christmas have to be a Halloween or Christmas movie? Why can't it be both?"
Immortal Works has heard your pleas and we are excited to announce our latest anthology, A Haunted Yuletide, slated for publication December 2020. And we need your submissions!
We're looking for stories that send shivers up and down your spine and make you want to check under your bed for monsters. We want stories that will make you afraid to to go sleep on Christmas Eve, because who is this Santa person, really? Tell us about the family home in New England where Aunt Enid is buried under the floor. We want to know about the ghost of that little kid who keeps hanging around the bakery downtown.
In addition, please note the following:
Contributions should be short stories (between 1,000 and 10,000 words in length) that include ghosts and Christmas, although other winter solstice holidays will be welcome also (Hanukkah, Kwanzaa, etc).
Stories should adhere to Immortal Works' submission guidelines, i.e. they should be free from graphic sexuality, gory violence, and use of the f-word.
Send your work to jbarnson+subs@gmail.com as an attachment in .docx format, and put Haunted Yuletide in the subject line.
The submission deadline is midnight MST on 29 February, 2020.
The editors of A Haunted Yuletide will be Jay and Julie Barnson. Jay Barnson is the author of the Blood Creek novel series. His short stories have appeared in numerous anthologies and magazines. Julie Barnson is a professional storyteller of the oral tradition who has spent years terrifying audiences with her ghost stories. She knows about the things that go bump in the night.
As compensation, authors will receive a percentage of royalties and an ebook copy of the anthology.
So, if you've got a story that's itchin' to be told next Christmas, click their Facebook page:
HERE
for more information. On a personal note, I get a kick seeing my friend, Bill Shunn's name in the release. Bill and I rose through the ranks of public education in Utah during the 1970s and 1980s, each conquering the foes of boredom and peer pressure. And, he's an amazing writer.
Christmas ghost stories--just think of the possibilities!
Then write them down and send them in.
Photo Credit
Image entitled "Marley's Face," scanned from Dickens, Charles. A Christmas Carol — A Ghost Story of Christmas. Il. Sol Eytinge, Jr. Boston: Ticknor and Fields, 1868. The illustration, based on a wood engraving by Solomon Eytinge, Jr. (1833-1905), appears at page 22 of the referenced work.

The image was placed online, courtesy Victorian Web and Philip V. Allingham, Contributing Editor, Canada; Associate Professor, Lakehead University.