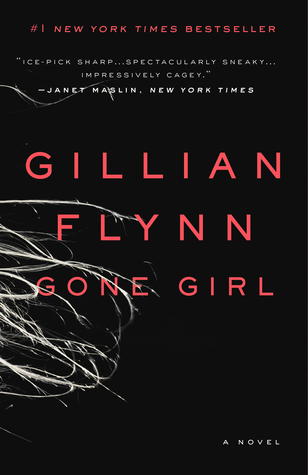 Ever watch a sporting event between two teams, both of which you want to lose?
That's how I felt while reading Gillian Flynn's Gone Girl. Then again, that's probably the point.
I have not seen the movie, nor did I read any reviews about the book or the novel so I didn't know anything about the story when I began the book. We get to know Nick and Amy Dunne through personal writings, one journal entries (Amy's...) and the other an account of what happens after Amy disappears (Nick's...).
Flynn creates characters we may not like, but we want to know what happens to them. Amy goes missing, Nick--according to his writings--had nothing to do with it. The disappearance soon becomes a national story, and we learns, as does the rest of the world, all about Nick and the life he's led.
There are a couple of major plot twists in the story, twists I didn't see coming. Those twists tell us more about Amy and her past. Throughout the entire story I kept trying to decide who I sided with more, or to put it better, who I wanted to "win." I kept going back and forth trying to decide who I liked least.
Reading Gone Girl made me a little sad, sad that the characters lacked high moral character. I suppose I'm kind of sheltered in my little world. I don't do a lot of traveling and the people I interact with are very similar to me and have had similar experiences. Books are a form of escapism, that's true. I just would hate to think people such as Amy and Nick Dunne exist in real life and would do the kinds of things they do to each other.
Gone Girl kept me interested. I needed to find out what happened to them and as the stakes in the story were raised, I kept wondering how it would all end. And if you're willing to get to know these unfortunate characters, you can find out, too.