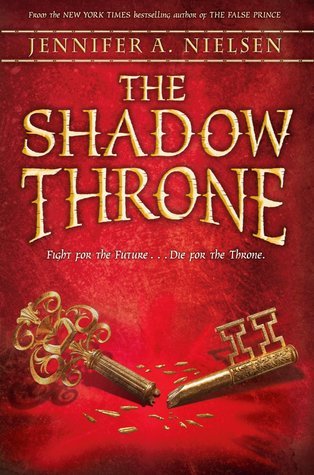 *
Last week I finished Jennifer A. Nielsen's The Shadow Throne, Book Three of the Ascendance Trilogy.
Good book, good trilogy!
I've reviewed the previous two books in the series and both impressed. I liked the way Nielsen created real characters with believable flaws and strengths. They were also predictable, in a way. When we first met Jaron in The False Prince, the boy was cocky, irreverent and instantly likable. He remained that way through the first, second and even last book.
Much of the plot mirrored that in the first two books. Jaron finds himself acting rash in order to save his kingdom. The stakes are higher in this installment, but that's to be expected. His realm is at war and he'll do anything it takes to protect those in his charge. This storyline is used in many fantasy series for good reason. It works. There's also a love triangle, of sorts. Without giving anything away, those that should be together at the story's end do end up together. It's not forced and seems right.
If there's one criticism of the stories (and it's small...), it's that Jaron's character arch was a little flat. Yes, he's confident and a smart-a-lick. His witty comebacks run throughout the series and even though it's fun and the boy/king is who he is, sometimes I wondered if I was thinking of him too much as a teenager that doesn't seem to grow up even into the third book when so much responsibility has been granted him due to his position. Like I said, it's a slight criticism. Maybe changing him--making him more serious would diminish his charm to the point where it would be distracting.
It's a moot point--the book wasn't written like that so we'll never know. I know I've recommended these books to my own kids and I'll recommend it to anyone's kids who love a enjoy a good story where good triumphs over evil even when facing impossible odds. The Shadow Throne is a very satisfying end to a wonderful story. Well done, Jennifer--well done!
* Photo used without permission from: https://www.goodreads.com/book/show/17667561-the-shadow-throne