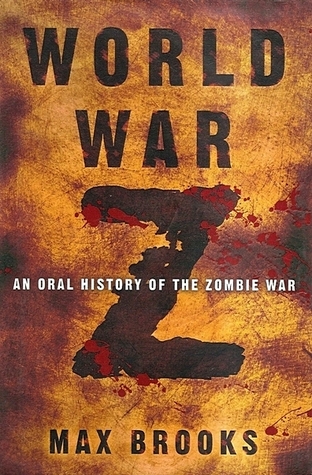 *
A few weeks ago a co-worker asked if I had read Max Brooks's World War Z. I said I had not.
"I've seen the movie," I told her.
"About the only things the book and the movie share are the title, and there's zombies in both," she said. "It's a great book."
I saw the book was available at the library audiobook section and I snatched it up.
And my friend was right--it is a great book.
If you've only seen the film (as had I...), you're in for a treat in World War Z. The book is more a collection of interviews. Think Dracula, but instead of letters, the story is told through a series of personal interviews, each told in a different voice. The audiobook version has a plethora of talent reading the various chapters. I was so into the stories that I didn't realize all the voices were well-known until I heard Alan Alda's voice. His distinct voice made me wonder if maybe there were some other famous people reading the book. Turns out, there are. After a short Wikipedia search, here's who's narrating:
Max Brooks

as The Interviewer
Steve Park as Kwang Jingshu
Frank Kamai as Nury Televadi
Nathan Fillion as Stanley MacDonald*
Paul Sorvino as Fernando Oliveira*
Ade M'Cormack as Jacob Nyathi*
Carl Reiner as Jurgen Warmbrunn
Waleed Zuaiter as Saladin Kader
Jay O. Sanders as Bob Archer
Dennis Boutsikaris as General Travis D'Ambrosia
Martin Scorsese as Breckinridge "Breck" Scott*
Simon Pegg as Grover Carlson*
Denise Crosby as Mary Jo Miller
Bruce Boxleitner as Gavin Blaire*
Ajay Naidu as Ajay Shah
Nicki Clyne as Sharon*
Jeri Ryan as Maria Zhuganova*
Henry Rollins as T. Sean Collins
Maz Jobrani as Ahmed Farahnakian
Mark Hamill as Todd Wainio
Eamonn Walker as Xolelwa Azania / Paul Redeker / David Allen Forbes
Jürgen Prochnow as Philip Adler*
David Ogden Stiers as Bohdan Taras Kondratiuk*
Michelle Kholos as Jesika Hendricks
Kal Penn as Sardar Khan*
Alan Alda as Arthur Sinclair Junior
Rob Reiner as "The Whacko"
Dean Edwards as Joe Muhammad
Frank Darabont as Roy Elliot*
Becky Ann Baker as Christina Eliopolis
Parminder Nagra as Barati Palshigar*
Brian Tee as Hyungchol Choi / Michael Choi*
Masi Oka as Kondo Tatsumi*
Frank Kamai as Tomonaga Ijiro
John Turturro as Seryosha Garcia Alvarez
Ric Young as Admiral Xu Zhicai*
Alfred Molina as Terry Knox*
John McElroy as Ernesto Olguin
Common as Darnell Hackworth*
F. Murray Abraham as Father Sergei Ryzhkov*
Rene Auberjonois as Andre Renard*
The best part of the book for me is how it described who life would be after an apocalyptic war with the undead. How would the survivors live? How would they function? Where would they live. Would they work together or would they try and kill each other? The author even includes interesting zombie facts like, if a zombie freezes in the ice in winter, when the weather turns warms and the zombie thaws out, it resumes its search for human brains.
I was not aware of that.
World War Z is a fascinating look at human nature. I know that horror movies reflect more than just man's battle against evil--it's a way of telling a story about how we interact with each other, how we face adversary and how somehow humanity survives the challenges it faces. If you want to read an intelligent, well-thought out and interesting that's more than just a book about zombies, I highly recommend this one.
* Photo used without permission from: https://www.goodreads.com/book/photo/8908.World_War_Z