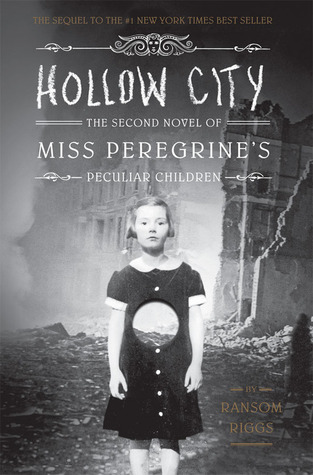 *
I can't tell if, on the Goodreads website page for Ransom Riggs's Hollow City, those responsible for creating that particular Goodreads page meant what they said as a compliment.
"Miss Peregrine's Home for Peculiar Children was the surprise best seller of 2011--an unprecedented mix of YA fantasy and vintage photography that enthralled readers and critics alike."
One could argue that any book making it to best seller status is surprising (unless you're name ends with King, Grisham, Patterson, Beck or Lee...), so maybe to many, Ransom Riggs's first book in the series, Miss Peregrine's Home for Peculiar Children becoming a best seller was surprising.
Then again, I wonder if whoever wrote that had read the book. It read like a best seller to me.
And so did its sequel. Hollow City follows the adventures of children who possess special powers and who are lost in time. Throw in evil Nazis (are there any other kind?), mysterious gypsies, and a race against time to restore their teacher to human form, and you've got another story that not only captivates, but entertains with its creativity and imagination.
In Book 2 Riggs ups the ante. There's still frightening monsters, white-eyes bad men and portals through time, but Riggs puts Jacob and his friends in the middle of a war as each child uses his or her powers to get them out of problem after problem.
If you've read the first in the series, you've got to read this one. Call me clueless, but I just found out there's a Book 3 in the series and as soon as it comes available, I'll be reading that one, too. I like these books. They're not too scary, but might be a little too much for the younger ones.
* Photo used without permission from: https://www.goodreads.com/book/photo/23164983-hollow-city