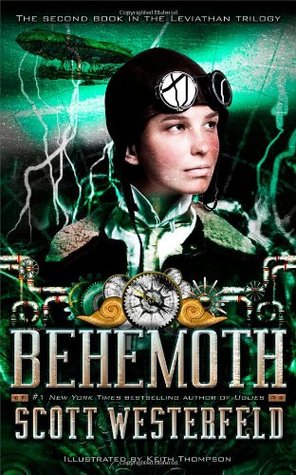 *
When Book 2 of Scott Westerfeld's Leviathan's series, Behemoth came available at our local library, I jumped at it. I was so impressed with Book 1, I knew anything continuing that world would be amazing.
And I was right.
Like the first book, Westerfeld continues using a real point in history and infusing it with fantastical animals, machines, and heroes. The two main characters, Deryn--a girl masquerading as a boy in the British Air Service, and Alek, Pre-WWI nobility travel to Istanbul where intrigue and danger await.
But Westerfeld's strength is the imaginative way he creates his animals. The books can be categorized as Steampunk, but I believe this does them a disservice. They're so much more than strictly steampunk. They're alternative history. They're monsters and battles. They're simply great. Apparently the printed version (or some printed versions...) have illustrations. Unfortunately, I missed out on these listening to it on audiobook.
There's one more story in the series and I hope to get to that one soon, just as soon as it comes available.
* Photo used without permission from: https://www.goodreads.com/book/show/7826116-behemoth?ac=1&from_search=1&from_nav=true