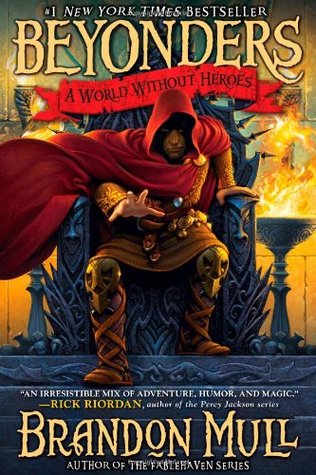 *
My kids read his books, along with thousands upon thousands of other kids, and I would suspect, parents also, so when choosing a new audiobook to read, I thought I'd find one written by Brandon Mull. I finished A World Without Heroes, Book One of the Beyonders series yesterday and the story's still with me. There's a lot of good things to say about this book.
I'd heard of the author for years—that happens when you're a local author that becomes successful. The first time I heard him speak was back in 2012 when my son and I attended LTUE (which, by the way, is coming up next weekend…). He said many things, but a few I remember. I was impressed with his book launches. One was coming up a few days after he spoke to the crowd and he went into detail about how he launched books. It sounded like a lot of fun.
The other thing I remember was him describing the method by which the main character of one of his books transported from the world we all know to a realm known as Lyrian. The character (Jason Walker) falls into the mouth of a hippopotamus and when he's through falling, he's not inside the creature, but in a new reality.
When I heard Mull tell of the character's experience, I thought it was cute and something a middle grade student would like. Somehow I attached "cute" to his writing style, even though I had never read any of his books. After reading A World Without Heroes, I don't think I'll used "cute" to describe Mull's writing style again. What I perceived as cute (or innocent…) is much more mature, more sophisticated, more Samulsonesque than I thought.
For me the best part of Mull's story was its uncomplicated storyline. I listened to the audiobook version and many times when I listen to fantasy books, my mind gets lost in all the names and places. This is not necessarily the fault of the author, but Mull kept the story focused. Jason is a Beyonder (because he came from the world beyond Lyrian…) and together with another Beyonder, Rachel, they embark upon a quest to both return home and save Lyrian from an evil king.
This is the first of many Mull books I hope to read. He surprised me with A World Without Heroes. I look forward to being surprised like this again.
* Photo used without permission from: https://www.goodreads.com/book/show/8306745-a-world-without-heroes?from_search=true