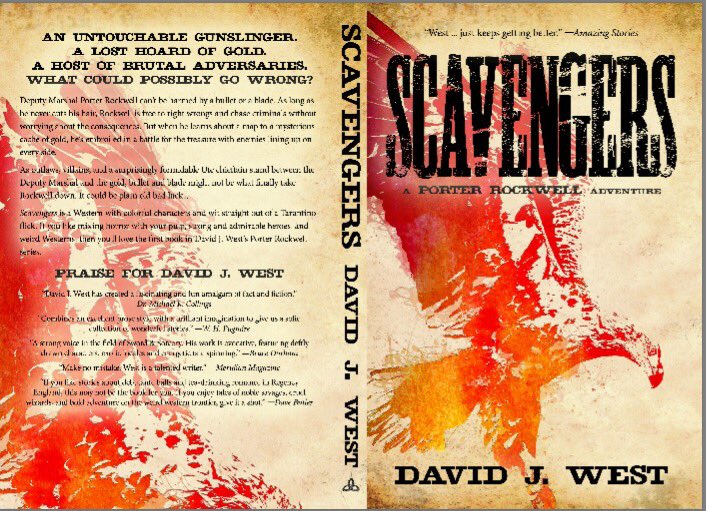 David J. West is launching another book--they guy just can't be stopped! But in all seriousness, a book launch is an exciting thing. I should admit that I have yet to read this book, but I have read a few of David's stories, and I have no doubt this one is great as well.
I also don't know much about Porter Rockwell, other than what I've heard hear and there. I know he was a bodyguard to Brigham Young, a man who's been called
The American Moses.
I've heard Rockwell didn't cut his hair, either--believed it would rob him of his power. There's a lot of information out there on Rockwell. I'm sure there are a lot of tall tales, too.
From
Scavengers
Amazon page:
Deputy Marshal Porter Rockwell can't be harmed by a bullet or a blade. As long as he never cuts his hair, Rockwell is free to right wrongs and chase criminals without worrying about the consequences. But when he learns about a map to a mysterious cache of gold, he's embroiled in a battle for the treasure with enemies lining up on every side.
As outlaws, villains, and a surprisingly formidable Ute chieftain stand between the Deputy Marshall and the gold, bullet and blade might not be what finally take Rockwell down. It could be plain old bad luck...
Scavengers is a Western with colorful characters and wit straight out of a Tarantino flick. If you like mixing horror with your pulp, strong and admirable heroes, and weird Westerns, then you'll love the first book in David J. West's Porter Rockwell series.
The book launch for
Scavengers: A Porter Rockwell Adventure
is Friday, January 27th. If you'd like to participate in the book launch, click:
HERE
for more information. Dave spins a good yarn. If you like well-written, energetic, suspenseful stories, I'm sure you'll love this one.