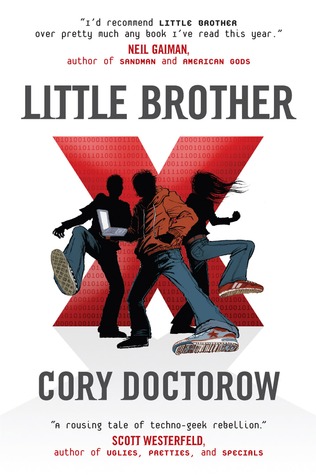 *
Last summer author Cory Doctorow came to Salt Lake to attend Westercon and, as per my usual at many of these events when it comes to accomplished authors, I didn't know who he was. However, during a pause in the "action" at the convention, Cory was hanging out in the hotel lobby and so some in my party began a conversation with him. Though I didn't talk to him directly, I could tell the guy was very intelligent and well spoken. I thought this guy's probably very capable of creating a good story.
Last week the podcast Writing Excuses played an interview they had with Cory and after hearing that particular podcast, I was even more impressed. So when a copy of his book, Little Brother came available at the library, I jumped at the opportunity to read one of his books.
I'm glad I did.
Little Brother involves a group of teenagers caught in a nightmare of government overreach following a terrorist attack on San Francisco. One teen, Marcus (the novel's protagonist…) uses his computer hacking genius to thwart the government's attempts at control after the implementation of "The Patriot Act II." As the metaphoric noose begins to tighten around Marcus's neck, the young man learns about his own strengths/weaknesses as well as life in general. Basically, he grows up quickly during a turbulent time.
Stories affect us all differently. Some affect me greatly as I'm reading them—others after I'm done reading. This one did both. What I found fascinating is, because I listed to the audiobook version, I didn't look at the date the book was published. When I found out it came out in 2008, I was shocked. This thing could have been written last month. Political jabs seem to be leveled against the US President that was in office in 2008—points I personally feel were for the most part justified, but since 2008 we've found out that all of these "fictional" possibilities of government spying and NSA control have been proven 100% correct, not just the imagination of the writer. And, to be honest, when it comes to the NSA and a lot of governmental control issues, things are pretty much the same as they were in 2008 if not worse.
One issue I had with the book, and this is nitpicking to some degree, is that when a person takes on the whole power of the government, it's hard not to look at the situations presented in the narrative and believe that there's no way this kid would not be picked up at any time. We know that all cell phones can be tracked (thus, tracking a person's physical location…), all e-mails can be hacked and there are cameras everywhere. I kept thinking about those things as the story progressed and I wondered if this kid was ever safe. These issues did not rise to the point where it ruined the story for me.
Reading Little Brother confirmed what I previously thought of Cory Doctorow—very intelligent, well spoken and very capable of creating a good story.
* Photo used without permission from: https://www.goodreads.com/book/show/954674.Little_Brother?from_search=true